Aaralyn Karima O' Connell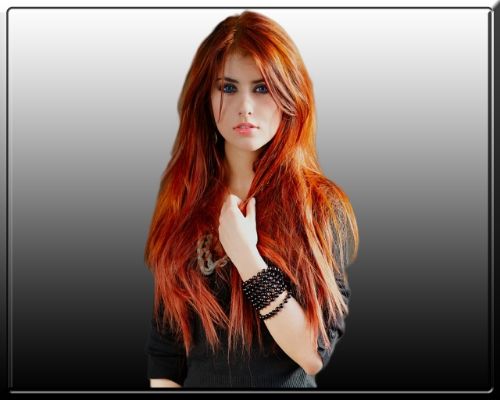 "Music speaks what cannot be expressed, soothes the mind and gives it rest, heals the heart and makes it whole, flows from heaven to the soul."
Name:Aaralyn Karima O'Connell
Player: Jeanne Ebenal
Aliases: Karima
Creature Type: Kin
Titles:
Description
Aaralyn stands 5' 9", having a curvy yet lithe body. Her long red hair falls to her waist in soft curls past her shoulders. She is most often seen within white kilt, white blouse and a brown leather boots that lace to her knees. A simple brown leather belt rests in snuggly against her small waist. She has an ever quiet and soft way to her, and is often heard humming to herself quietly. Her voice has a very lyrical way to it that flows with a gentle ease, it does have a soft Gaelic accent to it. She moves with an almost etheral grace to her, each flowing into the next action. her eyes hold a depth to them, a crystal turquoise colour that is the first thing that most seem to notice.
She always wears a beautiful silver and gold crafted necklace with a fire opal within the middle of it, as well as a matching bracelet on her right hand. They are both extremely high quality, and of celtic design.
Notable Traits
* Gorgeous x5, Seductive x2
* Her clothing is very well made, crafts x5
* Her voice almost has a lingering feeling to it, you can almost reach out and touch it. It always moves within a melody, her gaelic accent flowing within it.
* Pure Breed x2 Fianna
Common Knowledge
"We dance for laughter, we dance for tears, we dance for madness, we dance for fears, we dance for hopes, we dance for screams, we are the dancers, we create the dreams."
* She an extremely talented vocalist and musician (holding only fame 2 though)
* She is known to be Devlin O'Connell's sister
* She is clearly educated.
* She is known to go out of her way to help others, and rarely every focuses upon herself.
* She was taken by the Mage that was working with Breton along with Randall. She came back to the sept carrying him, 4-5 days later. She stayed within the clinic for as long as she possibly could stand being within the four walls.
* Aaralyn has been blind ever since she was taken
* She left Toshi and has been within the forest ever since.
* She was recently taken by Ray when her Brother Devlin stole his child. This has caused her more then a few issues it would seem.
* She recently has had a bunch of drama over being someones mate
* Her sight has been returned to her once more, as the Sept killed the mage.
* Aaralyn is being courted by Gunnar.
* She was taken from the sept by someone that looked like Gunnar, held by a Vampire for a time, where she refused to believe it was him that was torturing her. Upon her return she has faced her fears once more, and has continued her relationship with Gunnar, despite some trying to rip her from him.
* Aaralyn has been having some difficulties dealing with the loss of Gunnar. Her body showing many bruises, her hands raw, blistered and torn.
* Aaralyn has been seen with Gunnar's son Baldr (PB 5 GoF) often, she has become very protective of the boy and has been raising him as her own.
Aaralyn can be found most often in the trees, carrying a bow that was given to her as a gift.
Rumours
It is rumoured that Aaralyn is crazy
She has openly told Garou no more then once
She is just out to cause as much trouble as she can.
Someone or something is hunting Aaralyn, trying to cause her as much misery as possible
Aaralyn has a heart of gold and will do anything she can to make those around her happy, she can not abide suffering.
History
Find out IC ^_^
Lyrics
Have you ever stared into the rain
Thought the clouds would never disappear
Have you ever screamed out into the dark
Thinking no one else could hear
I was leaving footprints tainted by my past
On this winding road to you
I'd lost my faith in love
Tonight I believe again
My Heart was a broken place
Now I feel whole again
You bring me honesty
And that's worth believing in
and I believe
I believe again
Have you ever spun out of control
Like you never saw the road ahead
Have you ever just kept looking back
Ever closer to the edge
I was praying for the light I see in your eyes
I had all but given up
I'd lost my faith in love
Tonight I believe again
My Heart was a broken place
Now I feel whole again
You bring me honesty
And that's worth believing in
and I believe
I believe again
I believe the impossible is possible to overcome
I believe in miracles
Born from love in everyone
I'd lost my faith in love
Tonight I believe again
My Heart was a broken place
Now I feel whole again
You bring me honesty
And that's worth believing in
and I believe
I believe again
IC Contact Info
"To stop the flow of music would be like the stopping of time itself, incredible and inconceivable."
* She has a cell phone to which those that have the number can call
* She also has an email address email me
* Feel free to pm me as well
Back to Characters